Brussels dreamt of it. We did it:
Cargo bikes to rent next to your home
YES ! you read it right: an hour, a day or a whole week-end, renting an electric cargo bike is now possible in Brussels-and at excellent prices!
Parce que tout le monde doit pouvoir accéder au bonheur et à la liberté…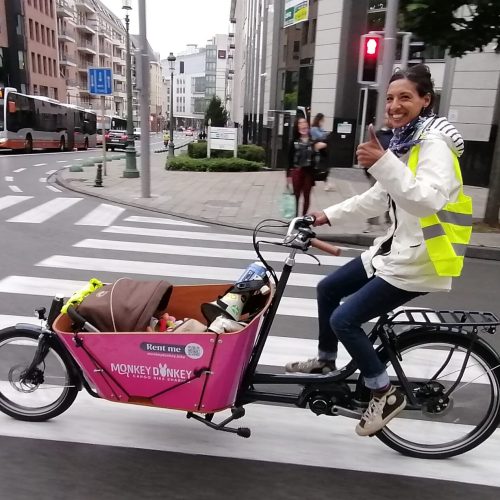 Recent studies demonstrate that cargo bikes are optimal for 75% of private and familial travels.
Since may 2021, Monkey Donkey has been deploying their fleet little by little through Brussels. Follow us on social media, subscribe to our newsletter to keep up with our news and join the Monkey Donkey community!
Réservez le vélo de vos rêves
Rendez-vous au point sélectionné à l'heure choisie, Sur place, un hôte vous remet la batterie et les clés du cadenas.
Quand vous avez terminé, remettez le vélo où vous l'avez pris. N'oubliez pas de rendre les clés et la batterie à l'hôte!
Monkey Donkey's goal is to make cargo bikes accesible to all. And this wouldn't have been possible without the help of our sponsors Bruxelles mobilité, BeCircular and our unique business model based on a network of fantastic local partners!
Renting can last as long as half an hour, a whole day or a week-end.
The prices range from 3,50€/hour (1,75€ for half an hour).
Passes are available for a day 25€ (24h) and 40€ (48h).
The Monkey Points next to you
New player in Brussels' mobility, founded by 3 lovers of Brussels and of bikes, Monkey Donkey offers you since may 2021 the possibility to rent electric cargo bikes and longtails.
The cargo bike is the ideal option for a large number of trips: forget about parking problems, forget about traffic! However, not everyone has the means to buy a bike like that or has enough space to keep it safe.
Monkey Donkey acts to make the usage of cargo bikes more known. Because at Monkey Donkey, we want to make them accessible to everyone.
Our bikes are located at monkey points, which are hosts (School, …) et accessible for everyone. You just have to download the app et book the bike you are looking for.
Renting can last for as long as half an hour, a whole day or even a week-end. Making sure that the bikes are used and are shared by as much habitants of the neighborhoods as possible is key to Monkey Donkey. And most importantly, that they are accessible.
Become a partner and store our bikes!
Monkey Donkey is in full expansion since may 2021. Our objective: to propose our bikes in the whole region of Brussels. If you want to become a Monkey Point in order to propose our bikes to your clients and the habitants of your neighborhood, visit our Partners page.
Become a member of our community!
Do you want to keep up with our project?
Discover the new Monkey Points? Follow our actuality?
Register Now!