Join our network of Monkey Points!
Monkey Donkey uses a network of partners convinced by our solution for sustainable mobility that our bikes bring. We propose a win-win situation, best you read the rest …
They are shops, neighbourhood councils, companies, municipalities, ... Together we share the desire for sustainable mobility and for a more pleasant city. The only condition: you must be able to charge the batteries and have an enclosed space to store the bikes at night.
For sustainable mobility, economical and practical
Present our bikes to your customers, members or your neighbour, in the colours of your company or shop: you store the bikes and we take care of the rest, including the app for managing the rentals.
By becoming a partner, you can use the bikes for your own benefit. When you don't need them, you can simply make them available for rental on the app. Oh yes, almost forgot: the money from the rentals comes back to you in full, meaning you can make your subscription profitable. (Win-win we said!)
The cargo bikes and longtails, among others, are visible from a distance. You attract new customers that way, publicly demonstrating your following for a clean means of transport, practical and modern.
If you become a Monkey Point, you will be added on our map and in the app.
An app that can do everything
The app lets users, who wish to rent a monkey donkey, register, reserve e, pay. You have nothing to do, we do everything.
No investment is expected from you to have a cargo bike. On the other hand, you do have to pay a monthly subscription, in which you have all you need, including adding your company in our app.
Major or minor breakdowns, we come and repair the bike at your place and in case of emergency we bring it back to our workshop and then to our depot
We are at your service for any questions or other forms of assistance.
A monthly subscription fixed and easy to rent.
For a fixed monthly price, you, as a host partner, can not only lend public support to the Monkey Donkey project, but you can also use the bikes free of charge for your own staff reasons. The rest of the time, your subscription is profitable by renting out the bikes through the app, because as a host partner, you get all the profit. Everyone has something to gain.
Our subscription includes an all-in service: you ride and rent, we handle the rest (insurance, maintenance, …)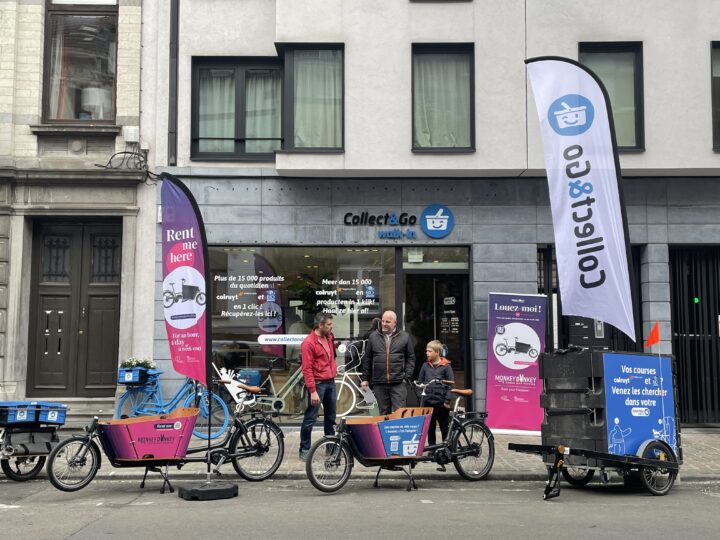 A mobility, service and all-in app solution : You rent, we handle the rest.
Boost your clientele: Place them in front of your business, the cargo bikes will attract the neighbourhood!
A public tool: Your brand, visible on the cargo bikes, attracts the eye.
Ils nous font déjà confiance…
I am interested,
I want to know more!
The idea of having cargo bikes or longtails in your company's colours and distributing them interests you?
Then fill in this form and we will contact you to look into a possible collaboration and answer all your questions.